Miscanthus Pet and Poultry Bedding
Miscanthus Pet and Poultry Bedding
Miscanthus giganteus put through the Burlybed production methods, both shreds and breaks the hard outer casing of the miscanthus cane to expose the soft and pithy core. This core provides the ultra-absorbency and the hard outer casing that make this product very durable bedding for all animals.
The bedding once broken up, goes through a  double dust extraction process which ensures it is as clean as possible before baling, stacking, wrapping and sending to our customers.  Whilst we can never claim that it's totally dust free, it is as clean as we can get it which means that it has a very low dust content.   
Nothing is added to the Burlybed Original bedding except time and expertise of the production team. Each bale is 100% Miscanthus, processed on the farm so that the very best, totally natural product makes its way to your animals be they horses or pigeons or anything else in-between.
The bedding comes in packaging which is chosen to be functional and durable to protect the product for customers whilst also considering the environmental impact. The miscanthus bedding comes wrapped in Low Density Polyethylene (LDPE) which in simple terms is exactly the same as a supermarket bag for life. This plastic is 100% recyclable. Our packaging is also made from one third recycled material that would have otherwise been destined for landfill. Many local authorities accept LDPE as part of their  recycling schemes so we always advise our customers to check with their local authority.
Pack weight / volume: 10kg / 44litres
Pack size: 380mm x 290mm x 400mm
£13.99 (inc VAT)
---
Bulk Buy Discounts
| Quantity Purchased | Price |
| --- | --- |
| 2 - 9 | £12.99 |
| 10 - 19 | £11.99 |
| 20 + | £8.99 |
Recommend a friend
---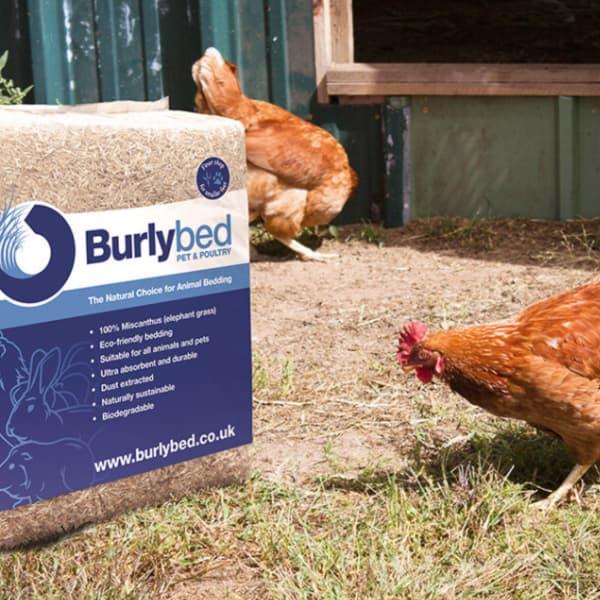 Miscanthus Pet and Poultry Bedding
---