Miscanthus Giganteus Rhizomes
Miscanthus Giganteus Rhizomes
£0.00
Select your size / pack below
ORDER YOUR RHIZOMES FOR 2024 SEASON
DELIVERY TAKES PLACE APRIL 2024
A non-invasive tall grass that grows around 3m (10ft) tall.
Plant 2 rhizomes per square metre
Ideal as a privacy barrier / windbreak
Low maintenance once established
Grows in a wide range of soils, for your best results create a fine, moist bed.
Good choice for those difficult areas such as steep banks.
Rhizomes will vary in size from small (size of finger) to larger mass (size of fist)
Last Order date for Spring 2024 planting is now 30th April 2024 please (subject to stock being available). 
Includes FREE Delivery (UK Mainland Only - for other areas please contact us )
Underground plant stems capable of producing a shoot and root system for new plants to grow annually. UK Miscanthus Giganteus rhizomes are responsive to soil temperature, above 8 degrees C in the spring the rhizome will rapidly produce both root and shoots and support the growing crop until it reaches maturity in the autumn when the daylight hours and temperatures drop the crop then naturally senesces, (the leaves dry and drop). The Rhizome is used to store starches and proteins and enable plants to perennate (survive an annual unfavourable season) underground, then remains dormant until the spring when the cycle starts all over again.
Miscanthus Giganteus Rhizomes do not have tap roots, therefore they do not affect the land drains, they have hair like roots that are capable of obtaining water deep in the soil, when used these roots breakdown in the soil to supply organic matter for future nutrition and provide the sequestration process required for carbon capture.
Miscanthus Giganteus Rhizomes are a sterile hybrid non-invasive crop and capable of providing fertile production for 20 years or more. The rhizomes multiply in the ground each year and can be lifted from the ground and divided to expand the current area of cropping.
---
Recommend a friend
---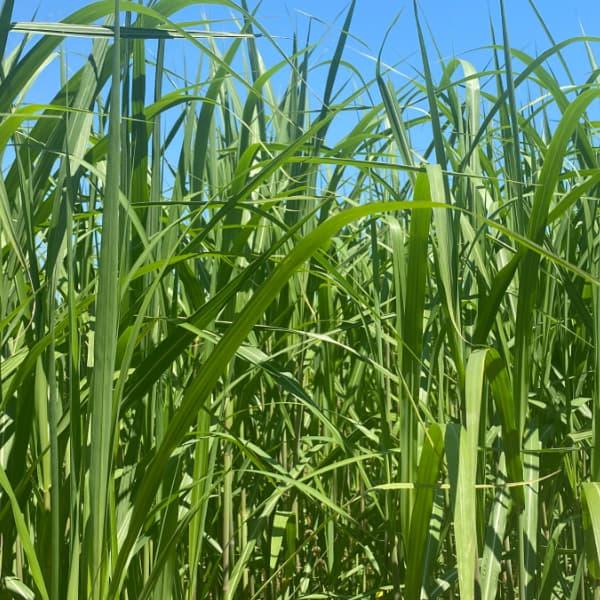 Miscanthus Giganteus Rhizomes
---